TOP TEN – TOTALLY MESSED UP KIDS MOVIES
TOP TEN – TOTALLY MESSED UP KIDS MOVIES
E.T. THE EXTRA-TERRESTRIAL (1982)
While it's touted as a magical family adventure, this right here is the movie that taught me not to trust the government. What's the point of befriending an Alien if it means a bunch of faceless, evil HazMat suits can just seize your home and do terrifying medical tests on you both? Thanks Obama.
WATERSHIP DOWN (1978)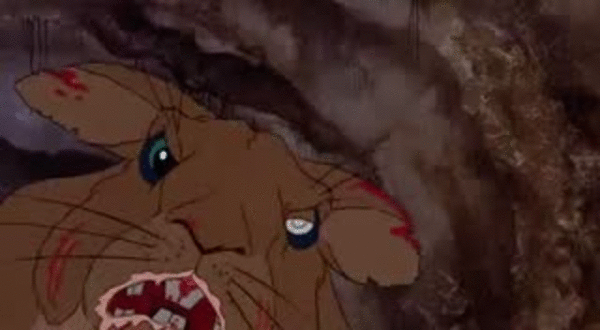 Probably given to most of us by well-meaning parents who saw the cartoon rabbit on the cover and thought hey my kid loves animals this should shut him up for a couple of hours. Oh you love bunnies? Did you know they're ALL GOING TO DIE?? You sure as hell do now, this movie makes sure of it in a never-ending series of traumas. Here's a bunny getting run over by a train, there's one choking on barbed wire, here's a whole clan of them led by a floppy-eared dictator going bezerk in a bloodbath of bunny on bunny violence.  It's like baby's first nihilist fairy tale — nothing matters because in the end all the fluffy bunnies die and so will you. Now sleep tight!
RETURN TO OZ (1986)
After so many years of watching the shiny happy original on network TV, lots of families in the 80's were excited about the new sequel…then systematically creeped out scene by scene. I think the first indication this isn't going to be as cuddly as the classic comes when Dorothy is locked up in a mental institution. She escapes to Oz just in time to avoid electric shock therapy only to find a post-apocalyptic wasteland. Oh God, then she meets the Wheelers…terrifying rollerblade mutants who made me awkwardly afraid of people in wheelchairs for years. By the time the head-hoarding Princess Mombi locks Dorothy up so she can cut off her head and take it for herself you're almost de-sensitized to the horror of new Oz. That is until the headless body chases her down the hall of screaming imprisoned heads. Ugh I still have nightmares, no wonder Fairuza Balk grew up with the crazy eyes.
PINOCCHIO (1940)
I'm convinced this was not a movie created to entertain children so much as really drive home the importance of stranger danger. Because y'know, little kids are always being turned into donkeys and enslaved in salt mines.  Poor Pinnochio has been alive for like ten minutes before being manipulated by the first of many nefarious strangers out to make a buck off the kid's naiveté. The entire Pleasure Island scene could never be made today, it's such a wonderfully long sequence of children smoking, drinking and fighting. And cursing! I totally forgot they said "jackass" in this, you'd never see that in Frozen.
THE HUNCHBACK OF NOTRE DAME (1996)
Many Disney movies leave emotional scars, after all it's a well-known fact children can only go on adventures after their parents die. But this movie is no mere tear-jerker, it's a toe-tapping tale of religious extremism, lust and murder. Judge Frollo never really gets his due as one of the most terrifying Disney villains, considering in the very first scene he murders Quasimodo's mother for being an illegal immigrant and attempts to drop the disabled infant down a well. Later he sings an entire song about how watching Esmerelda dance gives him naughty thoughts, and to cap off his reign of very adult-themed villainy Frollo tries to burn her at the stake because apparently being hot is a sin? Seriously this movie is just built on so many fucked up messages about religion and sexuality, gargoyle sidekick antics can only do so much to lighten the mood here.
WILLY WONKA AND THE CHOCOLATE FACTORY (1971)
An eccentric hermit with a penchant for murdering ill-mannered children entraps a group of unsuspecting victims on his palace of horrors. One by one the children are systematically murdered based on their vices by his army of midget slaves. At one point Gene Wilder sings a nursery rhyme while forcing everyone to watch a close up of a chicken getting its head chopped off. These are actual facts about a beloved kid's movie. The 70's really have a monopoly on gritty quirkiness and I love 'em for it,
THE WITCHES (1990)
Obviously witches are always on the hunt for the delicious blood of children, everyone knows this. What makes this children's horror movie so effective is the witch isn't hiding in the woods, she's in suburbia and at your resort vacation and EVERYWHERE.  And more often than not, the witches come out victorious with bone-chilling antics like imprisoning the little girl in the painting. Sure Luke and his grandmother stop the plot to change all the world's children into easily-murderable mice. But he's stuck in rodent form for the rest of his life, and it was made pretty clear grandmas going die soon from the diabet-us. So…happy ending, sorta not really.
LABYRINTH (1986)
Don't get me wrong, I love Labyrinth with every fiber of my being. It's an excellent re-watch at any age and only half that entertainment value lies in the amazement of what gags were aimed at children and realizing exactly where my issues come from. It's really unsettling just how romantic I thought David Bowie was for trying to get a 15-year-old's love…by kidnapping her baby brother? But it's not only the Goblin King's disturbingly large bulge that stole our childhood innocence, Jim Henson had a hand in giving life to a whole new generation of nightmares.  The way the Firey's (a.k.a. Demon Flamingoes) went from lighthearted reggae to playing with amputated body parts is beyond unnerving.
THE GARBAGE PAIL KIDS MOVIE (1987)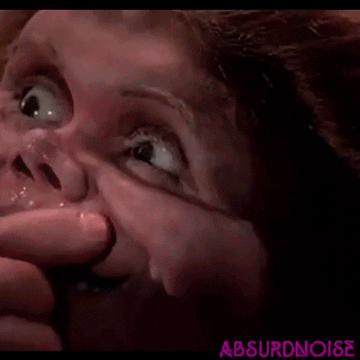 A gang of gross mutated puppet people befriend a lonely kid; no doubt this was supposed to be an edgy and vulgar fantasy adventure for mad for kids to adore and parents despise. What it looks like 27 years later is the story of a bunch of Alien? Mongoloids with "powers" like vomiting on command and occasionally munching people's toes off. The "adventure" entails the GPK's being forced into sweatshop labor, partying hardy with bikers at a Road House and being put on death row for being too ugly. You know, typical kid stuff.
WHO FRAMED ROGER RABBIT (1988)
It's like they set out to make a movie that explained sexuality to children when they animated Jessica Rabbit. Not to mention infidelity! This was probably the first time kids realized sexual affairs were a thing and people hired private investigators to take pictures of them. Even if in this case sex was actually patty-cake, the rhythmic moaning was very instructive. Cut to Christopher Lloyd in his scariest role ever dipping a doe-eyed baby cartoon in what is basically a vat of acid and it's essentially Scarface Junior. – Amelia Stainmetz
Comments