PopFilter Special Report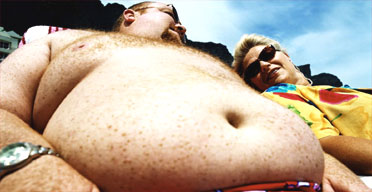 Fuck Summer
Hello. My name is Jason R. Noble and I write about music on this particular website, I talk about music on popfilter, the official podcast of this official website and I play, listen to and write music when I have free time. In short, I fucking love music. Why do I tell you this? Well, it's summertime and summertime is a time for the music industry to lean back and say, 'fuck you'. I don't know exactly why this is, but the bottom line is that music that is released in the summer is a fucking bummer. It's a fucking summer bummer.
And even though there is a severe lack of listenable (and I'm not even looking for great music, just listenable!) music out currently, I still feel compelled to write about the subject. Therefore, I humbly present to you another list of songs for you to groove to, this time under the geise of summer gems. These may not be the very first songs you think of to play while you drink your mojito at your bonfire or whatever it is people do during summer, but these songs will only serve to enhance an artistically rudimentary season.
Lessons Learned by Matt and Kim

Download | YouTube MP3 Converter
This song just makes me happy. It's the kind of song that you can listen to and appreciate for its lush aural soundscape or chug a beer and scream along to. Plus, the sweet promise that lessons learned will go down the drain makes this a perfect hidden gem for the summer months. This may not be on everyone's summer mix tapes, but it certainly should be on yours.
Hello, Goodnight by The Aquabats

Download | YouTube MP3 Converter
Okay, this is a list of summer GEMS, not obvious shit that everyone knows about. It would be very easy to put "Lobster Bucket" or "Turn Off the Idiot Box" and let you have fun, but I hate fun and I can barely stand you. This song, with it's sweet and soothing melody, mild and sparse guitar arrangement and bittersweet lyrics make for a perfect soundtrack to the waning hours of a warm summer evening. Put this song on, sit on a rooftop with your buddies or your sweetheart, crack a beer and enjoy. It will only make for the best night ever.
Que Onda Guero by Beck

Download | YouTube MP3 Converter
This is a song that proves Beck's congruent insanity and genius. The line 'andele joto/ your popsicle's melting' literally translates to 'hurry up, faggot/ your popsicle's melting'. What. The. Fuck. And that's the beauty of Beck and this song. If you listen to it casually, you can cruise up and down main street without a fucking care in the world. But if you give the song a chance to breath you get to see how quirky, weird and oddly aggressive Beck's lyrics are. Plus, if your popsicle is melting this song will tell you to hurry up and then call you an offensive gay slur…and that is so fucking summer.
Hot Knife by Fiona Apple

Download | YouTube MP3 Converter
Off of the best album of the year to this point, Hot Knife has the kind of melody that you can instantly get stuck in your head. It's bouncy, it's light and it sounds fun but in the context of the album it's an oddly sweet and psychotic ode to a doomed lover. Taken on it's own, however, this song sounds like the songs you sang at summer camp as you sat around the bon fire and tried to figure out which girl would let you put your finger all up in her lady parts. Listen to the drums, listen to the melody and let the round that develops envelop you and take your summer day from awesome to totally rad. And yes, going from awesome to totally rad is an upgrade. Duh.
Gin and Juice by The Gourds

Download | YouTube MP3 Converter
This is clearly the most obvious pick on the list, but it still feels sneaky. Whoever it was in the Gourds that thought they should take a hardcore rap song and coat it with sweet, slack-jawed sentiment is a fucking genius. This song will not only prove that you know way more of the words to this song than you thought, but also kick off any party that you might be throwing. It will make your punch sweeter, your toes dig deeper into the sand and you tiki torches glow a little bit brighter.
And that's all you need. Play these five songs when appropriate throughout your summer and I'll be praying for better music to follow in the fall. You're welcome twice.
With Love,
Jason R. Noble